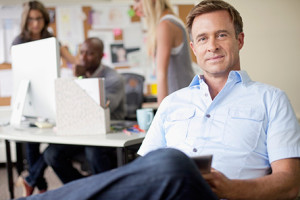 Before Starting Your Own Business, there are five things you should know.
When you work in mergers and acquisitions,  you are afforded some privileged insights to the inner workings of a company. As I reflect on these experiences of starting my own company, along with my own 40 year run as an entrepreneur, patterns begin to emerge.
While a few mistakes are all part of the inevitable learning curve that comes with starting your own business, if I could do it all over again, there are certainly things I would change.
I hope the following will save you not only time and money, but some of the anguish associated with the ever-coveted titled of "Business Owner" and starting your own business.
Understand all aspects of your business but focus your energy on the important owner tasks needed to run it.

When you first set out to start your own business venture, it's easy to imagine yourself as the captain of your own ship. However, while you're at the helm giving orders, vital areas can suffer without proper attention. As a general rule, it's safe to project devoting about 15% of your time to the core "creative" efforts of your business, while a whopping 85% of your work week will be spent dealing with administrative tasks, sales and marketing efforts and/or strategic planning.

However, you needn't (and shouldn't) go it alone. Which brings me to my next point…

Delegate the less important tasks to employees.

Delegation is often one of the hardest lessons for savvy businessmen and women who have built enterprises off the sweat of their own brow. While you need to be well-versed in every piece of the operating puzzle, don't fall victim to the need to control everything. That's why you hired a HR Manager, Marketing Coordinator and Sales Director. Continue to be their fearless leader, steering them in the direction of your true north; however, once it's been assigned, walk away. Let them come to you with any questions.

Interview many candidates before making a hiring decision.

Often, we entrepreneurs can be so pressed for time and anxious to get the ball rolling, we end up settling when it comes to new hires. While it may seem counter intuitive, work with your human resources department to ensure the list of potential candidates is long, diverse and competitive.

Don't make any decisions based on emotion or first impressions; instead, focus on actively listening to their answers carefully observing their reactions. Think about how they will fit in with your company culture, solicit feedback from previous employers, and assess what value, both personally and strategically, they'll bring to your organization. In the long run, you'll be grateful you took the time to source the most qualified talent to fill your ranks.

Terminate ineffective employees when first identified.

Putting a stop to unacceptable behavior before it becomes an issue is key. While we're not suggesting you fly off the handle based on one tardy clock punch, it is always wise to keep an eye out for emerging patterns which could negatively affect your business.

Work with your HR team to properly document any recurring issues, and be sure all employees are aware of the company policies you've put in place. After all, they're in effect to help everyone stay on track and remain productive.

Develop a comprehensive business plan and stick to it.

Having a comprehensive plan in place is the best way to chart your course to success. The hardest part is getting started, yet once you've identified some key metrics, you'll have a well plotted road map to help you achieve your goals. Keep at it, you will get there.
Starting your own business certainly isn't an easy one and never to be taken lightly. However, with a few 'best practices' under your belt and a whole lot of gumption, you'll be well on your way to realizing your dreams of entrepreneurship.
Be prepared to make mistakes and keep in mind these wise words courtesy of Maya Angelou, "You did the best that you knew how. Now that you know better, you'll do better."
Now get to work!