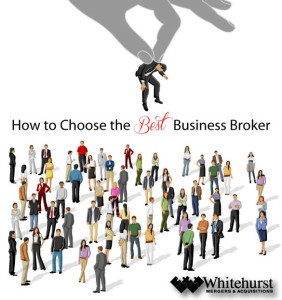 Business Broker Recommendations:
What should you look for in the ideal business broker?
So you've put in the time, executed the research, come up with numbers, fact sheets and lists aplenty, had a business valuation performed, and essentially done everything humanly possible to prepare for selling your business. Now it's time to step back and let a pro business broker handle the rest – but how?
For one thing, liking your broker is important. You'll be working with them for a while, and trust is crucial when it comes to putting a lot of your hard work into their hands. But rather than trusting your gut, there are some key elements you ought to look for before selecting your business broker. Doing careful research on each of these four areas beforehand will help ensure that your transaction goes as smoothly as possible when the time comes.
Below are business broker recommendations and here is an article about red flags to avoid.
Experience and Recognition

It almost goes without saying, but don't choose a business broker who lacks a significant amount of experience. You need someone with a number of transactions under their belt, who can produce references and testimonials, and knows what you are going to say before you even ask. Having successful transactions on their resume usually means a business broker has helped and impressed other community members, and should therefore come with recommendations.

Resources and Range

Though similar-sounding, these two are actually slightly different. Resources refers to the expertise and equipment at the fingertips of your business broker, while range refers to the amount of contacts in the proverbial Rolodex. If your business broker doesn't have a significant amount of both, your opportunities will be limited.

Professionalism

Selling your business can be intimidating, and you need to know you can count on your business broker for anything. That includes knowing they will always present you in the best light to potential buyers, so finding someone who knows how to play the game professionally and well is a must.

Confidentiality

Finding a business broker to keep your confidence is huge in the mergers and acquisitions business. Whether or not you consider your business transaction suitable for the public eye, the fact is that revealing information about your sale has the potential to change your relationships with staff, clients, and competition. Confidentiality, usually in the form of a nondisclosure agreement, is highly advisable, and the right business broker will offer it. While it's important to be careful when looking for the right Dallas business broker for you, remember to have confidence in your business and make finding a broker who will mirror that confidence your first priority. Selling a business is never simple, and it can take time, but if you've done your homework both beforehand and in finding a solid business broker, they should be able to help you through a tough time with maximum payoff.