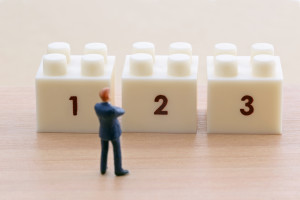 1.  SBA Financing is No Longer a "Slam Dunk"
Actually, this is not new news for 2015, but it is information that many business owners are not yet familiar with. Pre 2008 saw many businesses that had "hidden" owner's discretionary cash flow "perks" now might not be candidates for buyers needing SBA financing.
In many cases, if the owners cash flow is not clearly shown on the first page of the trailing three years of corporate tax returns as EBITDA (Earnings before interest, taxes, depreciation, and amortization) and owners salary, the SBA bank housing the loan for the buyer will not include that hidden cash flow in determining their debt/ cash flow ratios.
This fact makes the business less valuable to the banks underwriters. Sellers seeking the more traditional pre 2008 valuation of using hidden perks, will need to be ready to take more owner financing in the sale price, which will be a subordinate loan under the primary bank note, and more than likely, a 10 year amortization.
2.  Transition Period is More Important in 2015 Market
Inside of every buyer and bank underwriter's mind is the effects of the credit crisis on the longevity of any small business being considered for acquisition. The uncertainty of the overall economy and the effects of the "doom sayers" prevalent at any time in the media continually has its effect on buyer's uncertainty.
One potential way sellers can in part overcome this uncertainty is to stay for longer periods to assist in a seamless transition for the new owner. In prior years, the seller would characterically stay only one to three months to assist the new owner. Sellers willing to stay up to a year and in some cases longer with minimum pay for assistance can give buyers a comfort and help to offset some …
3.  Important to Obtain Brokers Opinion of Value
One issue facing business owners seeking an exit strategy leading to their retirement is knowing what their business is realistically worth on the open market. Due to the strict issue of confidentiality in selling, business owners are understandably concerned about talking to anyone concerning the eventual sale of their firm.
The issue is, that most business owners do not know what their firm is worth, and therefore are not in position to realistically plan their exit strategy. Many business brokers are set up to fairly quickly assist an owner in determining the current market price of their firm. In order to set up a relationship that may lead to an eventual listing, brokers often will not charge for a broker's opinion of value.
Owners should carefully look at determining a brokers qualification and experience and then talk confidentially about obtaining current market information.