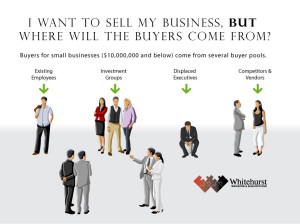 Do you want to sell your business, but wonder where your buyers will come from?
Buyers for small businesses ($10,000,000 and below) typically come from several buyer pools.  These buyer pools can be broken down into the following list:
Displaced Executives

In my book Exit, I refer to buyers coming out of corporate America as "Displaced Executives."  The vast majority of people who purchase small business leave corporate careers to become first time business owners. They become operators of the business they purchase and are normally looking to replace their lost income stream. Due to their income motivation, these buyers are typically the most aggressive buyer group and will pay the highest justifiable price.

Competitors and Vendors

A competitor can accomplish two things in purchasing another business in their arena: one, they can grow through acquisition and, at the same time, eliminate a competitor.  In my experience, competitors or vendors within the same industry are not willing to pay top dollar for a target acquisition. Competitors take a hard look at the goodwill value of the target company, which is often to the detriment of the seller.

Existing Employees

The old adage, "The solution many times is right in front of your nose" suffices here. A key employee certainly will know the business, the customers and suppliers, and is a logical choice to take over the company. However, key employees don't always become good leaders/owners. Many owners feel obligated to offer the business to their key employees before looking for outside buyers.

Investment Groups

Often referred to as Private Equity Groups, this buyer pool is always on the lookout for suitable acquisitions for their investors. These groups usually have no interest in running the company and often want the seller to stay on in the same capacity. The acquisition becomes an additional investment for the partner's portfolio which typically has a minimum requirement of $1 million in free cash flow. The investors are usually high net worth individuals wanting to spread their risk by having several firms under their umbrella. Poor returns on stock market investments have dramatically increased this type of buyer group.
If you are interested in finding a buyers for your business, please Dallas, Texas (TX) Business Broker, Bill Whitehurst @ 214-563-0700.