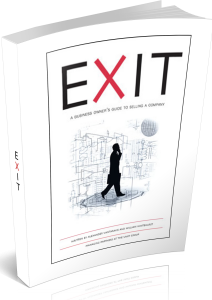 EXIT:  A Business Owner's Guide to Selling a Business
 Author:  Bill Whitehurst  | Texas Business Broker
Recommended Reading for Sellers
Introduction
Selling a business is arguably one of the most important and difficult events in a business owner's career. Because of the magnitude of the event, the sale of a business needs to progress as smoothly as possible to ensure a successful business transfer. The business transfer process is often made more complex and arduous because the parties do not understand the steps and psychology involved. We believe this book will lay the foundation necessary to guide you though the business transfer process.
This book is written in the first person speaking directly to you as a potential seller. The masculine gender is used for the sake of simplicity of writing style, though we are thoroughly aware that there are thousands of successful businesswomen – buyers or sellers. Essentially, the book is written as a quick reference guide for owners contemplating selling their business. We have written this book free of in-depth financial analysis and industry or legal jargon. It is designed as a general guide in business transfer to enable an owner to obtain a basic understanding of the process and to avoid the most common mistakes. For a more detailed analysis and explanation of the process, you should contact a local business broker.
The book is divided into the major phases of business transfer. The greatest benefit can be derived by treating it simply as a reference guide to be read before you consider selling a business and then again throughout the business transfer process. After reading this book you should be able to ask informed questions of all the players involved. This book identifies the documents needed, the key players involved and the major pitfalls to avoid regarding a business transfer. It has been said that a business owner, who only gets to sell his business once, is rarely able to go back through the process to correct any mistakes.
We are writing this book based on our experience of transactions in which we have been involved, as well as our observations of transactions we have seen in the industry. We have learned the pros and cons and have applied them to this book. It is specifically designed to target small businesses.
Table of Contents
The Major Steps Involved in Selling a Business
Determining When to Sell
Gathering Pertinent Documents
Understanding Owner's Discretionary Cash Flow
Understanding the Valuation Process
Why Use a Business Broker?
How to Choose the Right Business Broker
Who are the Buyers?
Working with Buyers
Showing a Business
Negotiating and Deal Structure
Closing
Pitfalls to Avoid
How to Prepare for Selling at a Later Time