What is the business selling process?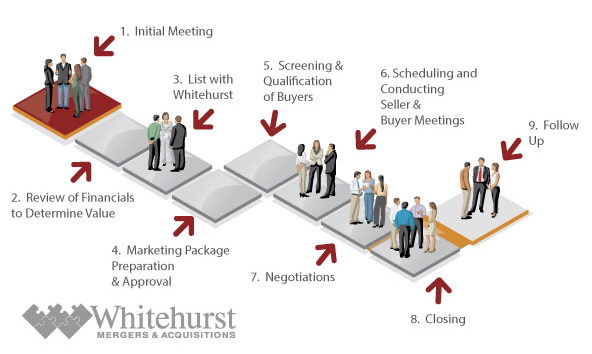 If you are thinking about selling your business,  it's not a bad idea to start planning before the day arrives.  Selling a business is largely about setting practical expectations.  It can be an challenging and laborious journey, but one with a very rewarding end result.
Here are some questions to ask yourself?
Can Your Business Be Sold?


Does it have a solid history of profitability?
Does it have a large and loyal base of customers?
Does your business have a competitive advantage (intellectual property rights, long-term contracts with clients, exclusive distributorships, desirable location)?
Does your business have opportunities for growth?

Are You Ready to Sell?


Do you find yourself not enjoying it anymore? Burnout is a very common issue for business owners.
 Are you  not inclined to invest in growth?
 Do you feel like you have hit your maximum growth potential?  It is not uncommon for business owners to build their business to a certain point and then realize they lack the skill set required to go further.

What's Your Business Worth?

Do you have your books in order?
Here are the set that will be involved in the business selling process:
Initial Meeting

Discuss confidentiality with business owners
Obtain business goals and selling objectives
Gather information from financial statements

Review of Financials to Determine Value

Determine value from financial review
Explain preliminary estimate of value

List with Whitehurst

Complete Exclusive Listing Agreement

Marketing Package Preparation & Approval

Create marketing package
Review and approval of marketing package by seller

Screening & Qualification of Buyers

Filter inquires in a confidential manner
Obtain Confidentiality Agreement
Screen and financially qualify the buyers

Scheduling and Conducting Seller & Buyer Meetings
Negotiations

Obtain executed Letter of Intent
Submission of deal package to underwriting for approval by lender
Coordinate Offer to Purchase
Agree upon terms and price between seller and buyer
Work with the closing attorney to create all the legal documents necessary to complete the transaction

Coordinate due diligence and closing

Closing

Work with business owner's CPA in areas of deal structuring and/or tax considerations
Follow Closing Checklist

Guide the closing process

Follow-up
If you would like a free selling your business resource, please check out this free guide from Biz Buy Sell.